Where in the Worlds has SETI Institute Been? - Mar 4 - 11, 2018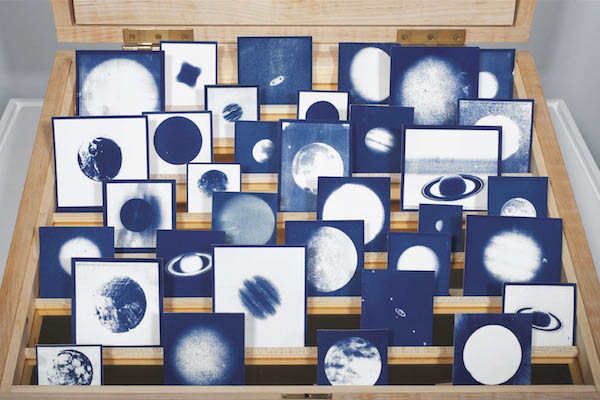 Students Meet Dario Robleto, SETI Artist in Residence
A member of the SETI AIR (Artists in Residence) Program Alumni, Dario Robleto, gave a public lecture for the Austin Peay State University Department of Art and Design. Robleto is a transdisciplinary artist and self-described "materialist poet", and an artistic consultant for the Breakthrough Initiatives, a science-base, multi-program effort to find and communicate with intelligent life beyond Earth.
SETI AIR expands on SETI's mission of exploration through the integrations of arts and sciences, creating an inspiring bridge between disciplines. You can read more about SETI AIR and the incredible artists involved here. SETI AIR and Montalvo Arts Center will announce program changes, coming shows, lectures, advisory committee changes and an outstanding new artist in April 2018, so stay tuned!
Clarksville Online: APSU Art + Design welcome visiting artist Dario Robleto on March 13th
Encouraging Women in STEM, Jill Tarter Speaks Out
March is National Women's History Month in the U.S., the U.K., and Australia, and so much of the cultural conversation centers on the contributions women have made to society, as well as the challenges they continue to face. A recent article by CBC News notes the factors keeping women from thriving professionally in STEM (Science, Technology, Engineering, and Math) fields. The article references an incident that occurred at the 2017 Starmus Festival, in which Jill Tarter reproached economist Christopher Pissarides, saying he had "pissed off half the world's population," in response to his remark that he found a male-voiced Siri to be more trustworthy. Although backlash is mounting against incidents of sexism, troubling underlying attitudes remain an obstacle to the goal of including more women in STEM careers.
CBC News: Women encouraged to pursue STEM careers, but many not staying
The Quotable Seth Shostak
The beloved quips of SETI's senior astronomer, Seth Shostak, have been cropping up in a number of disparate articles. Space.com examines the speed of light, looking to Dr. Shostak for insight into the constraints this puts in the way of science fiction:
"If Captain Kirk were constrained to move at the speed of our fastest rockets, it would take him a hundred thousand years just to get to the next star system," said Seth Shostak, an astronomer at the Search for Extraterrestrial Intelligence (SETI) Institute in Mountain View, Calif., in a 2010 interview with Space.com's sister site LiveScience. "So science fiction has long postulated a way to beat the speed of light barrier so the story can move a little more quickly."
Blogger Dave Martin of Why You Do It dives into the future – and possible dangers – of  AI. On the threat of AI destroying humanity, Shostak remarks:
"If we build a machine with the intellectual capability of one human, within five years, its successor will be more intelligent than all of humanity combined. After one generation or two generations, they'd just ignore us. Just the way you ignore the ants in your backyard. You don't wipe them out, you don't make them your pets, they don't much influence on your daily life, but they're still there."
Don't have the time to read all the recent articles on the search for alien life? CheatSheet.com offered up a speed-read in its culture section, including a quote from Dr. Shostak regarding Michio Kaku's prediction on future encounters with extraterrestrials:
"I've bet a cup of coffee to any and all that by 2035 we'll have evidence of ET," Dr. Seth Shostak, of the Search for Extraterrestrial Intelligence Institute, told Kaku. "I'm optimistic by nature — as a scientist, you have to be […] I feel that we're on the cusp of learning something truly revolutionary," Shostak said.
Shostak also recently appeared as a guest on the podcast The Interesting Hour to discuss his work with SETI Institute. Want to hear more from Seth Shostak? Check out Big Picture Science, a radio show and podcast produced at the SETI Institute, where ideas about the origin, behavior, and future of life and technology are explored, with fascinating guests - and a healthy dose of hilarity.
Big Picture Science:
Last week in Space: Why Go There? our guests considered why, and where, we should be exploring space. This week, The X Files reveals some of the wonders of insects, the good and the bad.
Facebook Live:
Last week we explored Decoding Alien Intelligence with Nathalie Cabrol, Lori Marino, Laurance Doyle and Kathryn Denning.
All Facebook Live videos can be seen on the SETI Institute's Facebook page at https://www.facebook.com/SETIInstitute
Events
Lunar and Planetary Science Conference: March 19-23, The Woodlands, TX SETI Institute scientists whose work will presented include Ross Beyer, Janice Bishop, Nathalie Cabrol, Matija Cuk, Cristina Dalle Ore, Virginia Gulick, Peter Jenniskens, Driss Takir, Matthew Tiscareno
City College of San Francisco: March 21, San Francisco, CA SETI Institute senior scientist Franck Marchis will participate in a star party
Institute for the Future: March 22, Palo Alto, CA Frank Drake will share will share is memories about the Golden Record and his role in its development
SETI Talks: March 27, Menlo Park, CA Roving on Mars: Revving up for Future Exploration of the Red Planet with SETI Institute scientists Janice Bishop, Virginia Gulick and Pablo Sobron
European Week of Astronomy and Space Science, April 3-5, Liverpool, UK Franck Marchis will participate
Contact Conference: April 6-8, Sunnyvale, CA Seth Shostak and Nathalie Cabrol will be speaking
California Academy of Sciences: April 12, 2018 Seth Shostak to participate in the monthly Nightlife talk
Silicon Valley Astronomy Lecture Series: April 18, Los Altos Hills, CA SETI Institute scientists Michael Busch will speak
Palo Alto Jewish Community Center, May 2, Palo Alto, CA Seth Shostak to of offer SETI Talk presentation
Association of Computer Professionals in Education: May 4, Welches OR Seth Shostak to participate in annual conference
The Villages: May 8, San Jose, CA Seth Shostak to offer talk about SETI
Silicon Valley Astronomy Lecture Series: May 15, Los Altos Hills, CA Chasing New Horizons: Inside the Epic First Mission to Pluto with Alan Stern and SETI Institute Scientific Advisory Board member David Grinspoon