Where in the Worlds has SETI Institute Been? - Feb 12 - 18, 2018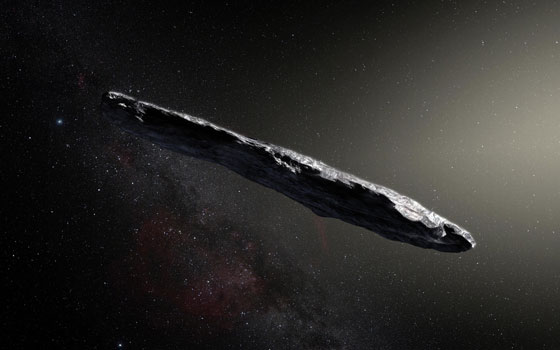 Recent Study Reveals More of Interstellar Asteroid's
"Violent Past"
A violent collision with another object is a possible explanation for why the interstellar asteroid that recently visited our solar system appears to tumble on its journey away from its system of origin, according to a recent study published in the journal Nature Astronomy. Moreover, this study would appear to confirm that 'Oumuamua, as this asteroid is known, is likely solid rather than a collection of loose material. EarthSky quotes SETI Research Scientist Matija Cuk's recent article on the surprises this visitor has offered observers:
"… internal motions of material inside asteroids … damp this tumbling relatively quickly (astronomically speaking), leaving only asteroids that suffered recent collisions as tumblers. 'Oumuamua spent many millions of years in the interstellar void, so it should have damped its tumbling, but it apparently did not. This made planetary scientists conclude that 'Oumuamua is likely a solid chunk of rock or metal, without any internal structure or loose material."
The study suggests that 'Oumuamua will likely continue its' weird, tumbling rotation for the foreseeable future, and researchers are continuing to learn from this remarkable encounter.  
Don't Panic! Study Suggests Most Americans Would Take Proof of ET in Stride
'Oumuamua certainly piqued the interest of the public - especially since its strange properties and intergalactic travels led some to speculate that it may have been an alien spacecraft - but it also offered some insight into how society might react to proof of extraterrestrials. In study results presented recently at the American Association for the Advancement of Science, it would seem that people generally believe they'll react positively to news of life beyond Earth. But these results might not tell the whole story, as noted in National Geographic:
"I think the fact that the (slim) majority of folks seem 'down' with the idea of microbes on Mars or elsewhere is hardly surprising," says Seth Shostak of the SETI Institute. "Grey guys are quite different, and the really interesting studies are those that try to gauge the reaction to a SETI detection, or even more dramatic, discovery of alien hardware."
The study was limited to participants in the U.S., and so may not have accounted for cultural differences. Furthermore, Dr. Shostak points out that the context of such a discovery would likely have a dramatic impact on the kind of welcome such hypothetical cosmic neighbors might receive. As he told Scientific American:           
"If we were to announce tomorrow we found microbes on Mars, people would not start rioting in the streets…but I don't think anybody thought they were going to riot in the streets." If Martians landed in Silicon Valley, however, "I'd buy a lot of frozen pizzas and head for the hills—I mean, I'd be out of here, too," he adds.
Could "Spam" from Aliens Pose a Threat?
 Since the first modern SETI experiments were conducted in the 1960s by Frank Drake, Chairman Emeritus of the SETI Institute's Board of Trustees and creator of the Drake Equation, speculations and debate have swarmed around how contact with intelligent denizens of another world would impact our species. A new study suggests that merely receiving and analyzing a message could open the way to some perilous possibilities, ranging from panic-inducing misinformation, computer viruses, or even malignant AI. These researchers join others - most notably, physicist Stephen Hawking – in voicing concerns that contact with an alien civilization would have dangerous consequences for Earth's inhabitants. Astronomer and co-founder of the SETI Institute, Jill Tarter, maintains a more optimistic view of our potential extraterrestrial neighbors. In a quote from the Daily Mail, Dr. Tarter states:            
"The idea of a civilization [sic] which has managed to survive far longer than we have...and the fact that that technology remains an aggressive one, to me, doesn't make sense."
While the debate on how best to respond to an alien signal continues, the current protocols, "would be like the Neanderthals having a plan in case the US Air Force showed up", according to Seth Shostak, the SETI Institute's senior astronomer. In any case, Dr. Shostak notes that Earth cannot rely on avoiding the notice of ET, as humans have been signaling our presence via radio and television signals for years:
"Those signals have been going out into space since the Second World War, so   we've already told them we're here."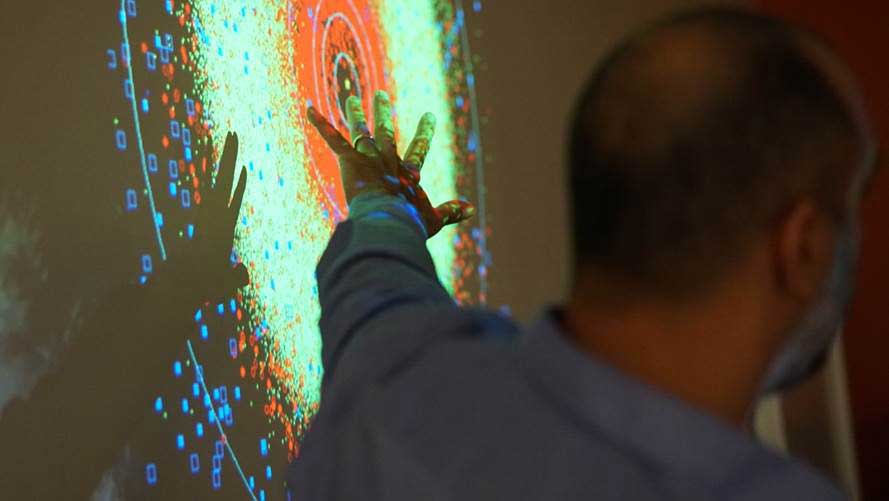 Can AI Save the World? FDL Explores the Possibilities
AI is brought to bear against planetary questions and challenges at NASA Frontier Development Lab (FDL), in a public/private partnership between the SETI Institute, NASA Ames Research Center along with private industry partners. Last summer, teams of researchers gathered at SETI Institutes' headquarters in Mountain View, California, to tackle everything from near-earth asteroid detection to gathering resources on the moon. Fast Company takes a look at this interdisciplinary approach to using new technologies to help humanity survive, and even go on to thrive as a space-faring species. In the words of FDL's Director, James Parr:
"For the first time in human history," he says, "we have the ability to do something about an act of god. We don't have to be victims."
You can read more about last year's FDL program on SETI.org, and applications are currently being accepted for next summer's program.
Cryptocurrency Mining Monopolizes GPUs Used in SETI Research
A shortage of graphics processing units (GPUs) in the wake of the current rush of cryptocurrency mining has raised some concerns for University of California Berkeley's SETI Research Center, which utilizes the technology for data processing and now faces project delays, according to Motherboard. The SETI Institute, on the other hand, does not rely GPUs for observation. Nonetheless, SETI Institute's senior astronomer Seth Shostak acknowledges:            
"When it comes to finding the aliens, the more computer power you have, the  quicker you can do the search. It's like looking for buried treasure on a South Pacific island … if you can replace a teaspoon with a shovel, you might find it a    lot quicker!"
Explore Extremes at the Fifth Annual
MarsFest
in Death Valley!
The public is invited to learn more about the earth and solar system at Death Valley National Park on February 23-25, thanks to a collaboration between the SETI Institute, Death Valley Natural History Association, NASA Centers, JPL, and more. Join SETI research scientist Rosalba Bonaccorsi and others for a weekend of scientist-led fieldtrips, keynote talks, and night-sky viewing event on Saturday. Registration is free!
Encounter Humanity through the Eyes of SETI's Experience Designer
In an interview with Cool Hunting,Dr. Nelly Ben Hayoun, Designer of Experiences at the SETI Institute, reflects on how humanity understands itself:
"Since Drake and Sagan's attempt to communicate our humanity in the shape of the Golden Record, we have been clueless at defining what makes us human—or to say the least what we should send on to potential extraterrestrial intelligence.

To be fair to those of us who tried, it is not an easy task. Indeed, by the time the   message we write reaches potentially "intelligent" planets, we will be long gone.  So clearly beyond the complexity and mechanics of the message itself (i.e.: which language shall we use?), it is also complex to think now on behalf of a future that is a million and more of light years away."
2017 Annual Activity Report of the SETI Institute
2017 was an incredibly productive year at the SETI Institute. SETI Institute researchers published 147 peer-reviewed articles in scientific journals, 225 conference proceedings and abstracts, participated in 172 media stories and interviews, and gave 177 public talks. Other notable honors and recognitions included:
Edna DeVore was selected as a fellow of the American Association for the Advancement of Science 
Doug Caldwell was cited among the "World's Most Impactful Researchers" by Clarivate Analytics 
Fergal Mullally received the NASA 2017 Exceptional Public Achievement Medal for revolutionary Kepler Object of Interest Vetting. 
Mark Showalter received a NASA Group Achievement Award, granted to the New Horizons team 
Margaret Race was appointed Senior Scientific Editor of the Astrobiology Journal 
Driss Takir received a NASA Silver Achievement Medal for contributions 
You read more about these achievements and much, much more in the full report here.
Big Picture Science:
Last week's encore presentation of Quantum: Why We Want 'Em examined the impact quantum mechanics has on our everyday lives. This week in Meet Your Robot Barista we take a look at robots and AI.
Facebook Live
Last week SETI Institute President and CEO Bill Diamond sat down with members of the Fully Integrated Lifecycle Mission Support Services (FILMSS) team to discuss their work. All past Facebook Live videos can be seen on the SETI Institute's Facebook page at https://www.facebook.com/SETIInstitute/.
Events
Rencontre du Vietnam on Exoplanetary Science: February 25 – March 2, Quy Nohn, Vietnam Franck Marchis will present
Silicon Valley Astronomy Lecture Series: February 28, Los Altos Hills, CA Mars Exploration
Osher Life Long Learning Institute: March 2, Berkeley Institute Seth Shostak and Margaret Race to discuss Big Trends in Astronomy
Massachusetts Institute of Technology: March 10, Cambridge, MA SETI Institute Senior Scientist Franck Marchis will participate in
Beyond the Cradle 2018: Envisioning a New Space Age
World's Fair Nano: March 10-11, San Francisco, CA Seth Shostak will be a featured speaker
National Science Teachers Association: March 15-18, Atlanta, GA SETI Institute Acting Director of Communication Pamela Harman will lead a workshop
Lunar and Planetary Science Conference: March 19-23, The Woodlands, TX SETI Institute scientists whose work will presented include
Ross Beyer, Janice Bishop, Nathalie Cabrol, Matija Cuk, Cristina Dalle Ore, Virginia Gulick, Peter Jenniskens, Driss Takir, Matthew Tiscareno
City College of San Francisco: March 21, San Francisco, CA SETI Institute senior scientist Franck Marchis will participate in a star party
Contact Conference: April 6-8, Sunnyvale, CA Seth Shostak and Nathalie Cabrol will be speaking
California Academy of Sciences: April 12, 2018 Seth Shostak to participate in the monthly Nightlife talk
Silicon Valley Astronomy Lecture Series: April 18, Los Altos Hills, CA SETI Institute scientists Michael Busch will speak
Palo Alto Jewish Community Center, May 2, Palo Alto, CA Seth Shostak to of offer SETI Talk presentation
Association of Computer Professionals in Education: May 4, Welches OR Seth Shostak to participate in annual conference
The Villages: May 8, San Jose, CA Seth Shostak to offer talk about SETI